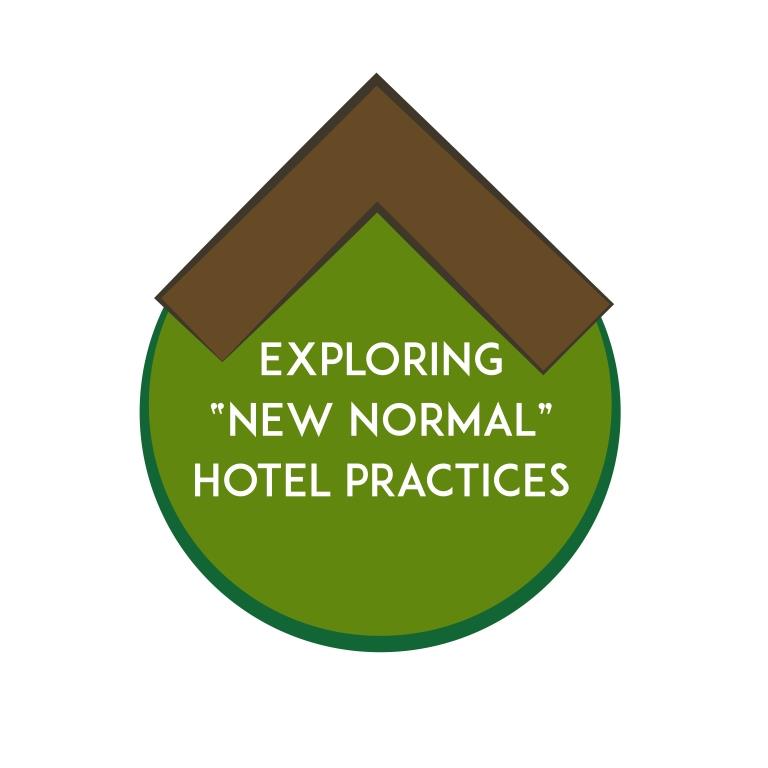 The efforts of Housekeeping departments in hotels always speak for themselves.
I took pride in my job as a room attendant because I understood that I was contributing significantly toward retaining satisfied guests and generating new guests' willingness to repeat their visit to the hotel. I was still a student then, pursuing hotel management, but took off during the summers to work. I also understood the need for team work in the department to make the needed impact and I did have a great team! That was several years ago!
There are many different ways guests assess the cleanliness of hotels. As a guest, you may not see any strands of hair, stains or dirty build-up anywhere, but can you be sure about the absence of germs and bacteria? The sad truth is—you can't.
Less frequent users of hotels may however only look out for the obvious red flags; stained bed linen and towels and pests (cockroaches, ants, bed bugs and/or other crawling insects); more frequent users may include leaky faucets, dust on the fan(ceiling or standing), wilted plants or if artificial, (harboring of dust), worn out or uncleaned carpets and floor rugs, leakage spots on the ceilings and peeling paints of walls.
Here are a few obvious faux pas I photographed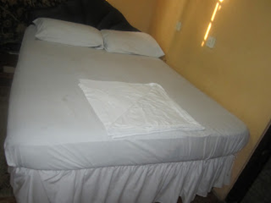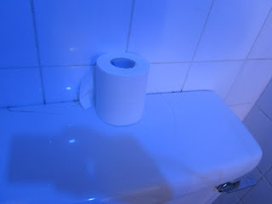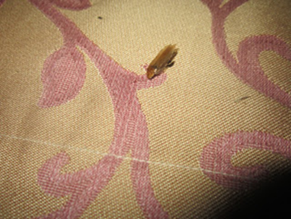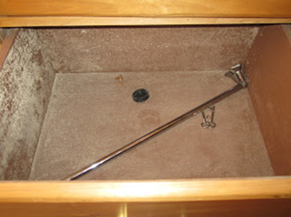 Unless it is a themed hotel, many seasoned travelers and users of hotels, pop open up the top of the kettle or coffee machine, and examine it closely for mold or rust; others are immediately put off by the use of colored sheets or patterned beddings for obvious reasons.
The COVID-19 pandemic is changing hotel operations in every facet of hotel operation, from the front desk to the back-of-house activities. Cleanliness is becoming the No. 1 priority.
Before we zero in on finding the new normal practices in the department, let us 'warm up' by establishing common understanding of basic activities and procedures in the department.
Once again, I have with me an industry practitioner, this time, a Front Office Manager (FOM) to walk us through!
HOST: Before the pandemic, few people gave a second thought to sleeping in a bed that hundreds of others had slept in. Hardly anyone was concerned about touching door handles, faucets, air condition and television remotes. But now I think people visiting hotels will be hyper-conscious of all the surfaces in a hotel room that could be hosts for the virus. What has been your observations with guests in your hotel?
FOM: Guests are taking cleanliness and the assurance of it seriously now, considering that no one is immune to infection at the moment. They want to see things that reassure them that they made the right choice coming to our hotel. There are things they know about and which they want to see happening in the hotel; there are things they see that give them more confidence in the property and reassures them of their safety. An example is providing something as common as a bin outside public washrooms allowing guests the option of opening the door with a tissue and having a bin to dispose it off into it.
HOST: In certain jurisdictions, for instance, the Singapore Tourism Board developed a "new clean" auditing initiative which was launched to measure hotel compliance for cleanliness. The properties will therefore be considered "SG Clean" if the hotels meet the standards.
In Malaysia, a similar version of the program is called "Clean & Safe Malaysia."
It is not clear whether GTA (Ghana Tourism Authority) has a special program to certify the safety of hotels in respect to the coronavirus. Would you think this would be necessary in Ghana?
FOM: I think it is very necessary that cleaning guidelines and parameters are provided and auditable measures put in place to ensure all hotels are compliant. It is also necessary because unlike internationally affiliated hotels that may have guidelines provided for implementation across all their properties, a good number of independent properties may be unaware of new trends which will certainly affect their ability to offer the confidence and safety guests have come to expect.
It is important to also stress that having the guidelines is not as important as implementation. A process is as useful as the effort applied, to ensure it works. Monitoring and evaluation is key to success in many cases.
HOST: If hotels should be left to demonstrate that their respective facilities are safe, clean and equipped to keep guests safe, what will it take for guests to believe that the hotel they've chosen is clean and safe?
FOM: I think it is dangerous to expect individual hotels to implement guidelines that make them safe for their staff and guests alike. All these measures come at additional cost to hotels and hospitality businesses. Bearing this in mind, you don't want situations where hotels put up visual aids that suggest they are implementing guidelines when they may actually not be doing so.
The potential economic loss in the event of a second wave of infections should motivate Industry regulators to ensure the right things are done.
HOST: I had indicated in my previous article that hotel housekeeping departments ensure that hotels are AESTHETICALLY CLEAN however with the coronavirus, one is looking at the department ensuring that hotels are CLINICALLY CLEAN. Kindly explain what the difference is between these forms of cleanliness.
FOM: Aesthetic cleanliness and Clinical cleanliness certainly widely vary and for good reasons. We are no longer cleaning to offer guests just "a feel good" space. Our focus is to assure the guest of safety first and foremost. Clinical cleaning is when hotels now actively take out aesthetic materials from guest rooms or public areas which appear to by high touch points and yet offering little to no opportunity to safely clean and reuse. A lot of hotels are beginning to remodel their public areas with as little decoration as possible.
HOST: Let us also clarify some terminologies before we dig deeper into our discussion. How would you distinguish these: cleaning, disinfecting and sanitizing, in respect to hotel housekeeping activities?
FOM: All these three processes are still used and I wouldn't particularly consider one more important than the other.
Cleaning removes dirt and germs on surfaces; it is the first level of preparing materials, surfaces etc that are used by guests and staff alike.
Disinfecting comes in with particular focus on ensuring that surfaces and touchpoints are adequately chemical treated to kill germs and ensure guests are to a large extent safe while using the hotel's facilities.
HOST: I have been looking at room status codes:
OCC – Occupied VC – Vacant & Clean VD – Vacant & Dirty
OR – Occupied & Ready OC – Occupied & Clean OD – Occupied & Dirty
CO – Check Out OOO – Out of Order
DND – Do Not Disturb VCI – Vacant, Cleaned & Inspected

Is it likely the industry would come up with new room status codes, considering that checkout rooms are being left for 48 hours before another guest uses the room? For example, CLEANED & DISINFECTED or CLEANED, DISINFECTED & SANITIZED?
FOM: That may not be necessary. Housekeeping uses a facility scheduler to plan room cleaning for the team. When rooms are cleaned, the supervisor double checks and ensures that all necessary sanitization is done before the room is parked as inspected.
In my opinion, the assurance of a disinfected room is relevant information for the guest. Efforts should rather be channeled at communicating this information to the guest and much less to the staff. It is important but not relevant.
HOST: Before the pandemic set in, on the average, room attendants were expected to clean 16 rooms for morning shift and 30 rooms for evening shift if turn down service is provided. using standard averages of 45 minutes for a checkout room, 20 minutes in a stayover room and under 15 minutes in a vacant room. What changes should we be expecting in relation to these?
FOM: It is fair to allow additional 10 minutes on all current parameters and this is bearing in mind current guidelines provided by the Government regarding traveling into Ghana. Assuming the guidelines are followed strictly we can assume that everyone traveling into the country and allowed entry at the Airport is COVID-19 negative. This means the suggested 10 minutes is to allow the team focus on activities that bother around disinfecting and sanitizing room surfaces and touch points.
HOST: Before the pandemic, stay-over rooms were being serviced every day and checkout rooms were almost immediately cleaned by room attendants. But now I understand guestrooms are cleaned only on request and even that, guests may only require a set of clean linen. Can you clarify exactly what is happening here and how requests are made?
FOM: As a company, we have revised our standard room cleaning protocol to a 3-day interval and this is done to limit the contact between our associates and guests. The guest on the other hand is given the option to opt out of this cleaning regime. He is allowed to specify what interval is preferable. He is still at liberty to change this at any time.
HOST: Extensive Public area cleaning is usually carried out at night or at dawn when there is very little movement (at least in my time). Guests hardly saw these areas being cleaned so guests always experienced the 'magic' in public areas of hotels which are always kept clean without anyone seeing any cleaning being carried out. Since now hotels are wanting to convince their guests about their cleaning practices, should we expect cleaning activities to become more visible in hotels?
FOM: It is understandable that guests want the added assurance that the surfaces are properly cleaned. Seeing the staff clean per say does not convey confidence. This is built overtime as part of the hotel's reputation. Focus should be placed on the repetitive actions surrounding cleaning rather than focusing on making the process of deep cleaning visible.
HOST: Thank you very much, I truly appreciate your time with us.
Do look out for next week's discussion along the above lines with an Executive Housekeeper in one of our top hotels.