There are different categories of visitor attractions…landscape, wildlife, culture etc. Each provides unique experiences. In last week's article, I confessed leaning towards eco-tourism when it comes to touring Ghana.
Some of us grew up in cities; Accra, Kumasi, Koforidua, Hohoe and we went to secondary schools in cities, Cape Coast and Ho and worked in cities. We also got opportunities to travel out to foreign lands, to larger cities where our Ghanaian city life is incomparable. This background, could perhaps be a contributing factor for 'craving' to escape the city life for attractions in rural areas with features such as great waterfalls, ordinary rivers and lagoons, large expanse of vegetation (whether forest or grassland), mountains, hills or plateaus or even parks in cities!
Ecotourism also allows you to immerse yourself in the daily life of the locals. This is where I think participatory tourism enhances the eco tourists' experience, leaving long lingering memories and the desire to return.
I was not aware of most of these 14 eco-tourist sites before taking on this work adventure: a 21-day private tour across the country of Ghana! The adventure begins…
Xavi Bird Sanctuary
Those days there was no GPS. I got myself the tourist map of Ghana as my guide. The rental car driver assigned to me assured me he knew every place. I had provided the company the travel schedule much earlier, before the travel date. I received an assurance of the services of one of their best drivers. Yet we missed the turning to Xavi twice.
I was not surprised therefore, when I came across the following narration by a tourist.
"Near Akatsi market, I looked for a tro-tro (minibus) to the village of Xavi, and people asked me five times if I was really sure. I thought that was a bit weird as the place would host quite a well known community based tourism project. After an hour or two, the tro-tro finally filled up, and half an hour driving later I was dropped at a small village. The tiny settlement seemed completely abandoned as I strolled between the huts. Then I found an old lady who didn't speak English; with hand signs I explained I wanted to make a canoe trip on the river; now she seemed to understand. Some time passed before she returned with a youngster. "You need canoe?" He noticed my hesitation. Then it appeared I had arrived in Have, not Xavi which is pronounced similarly (at least to my ears!), and there was no river here. He guessed I wanted him to build a canoe for me, which they apparently did here. After this total misunderstanding I waited at the road for another hour before a truck passed, that gave me a ride back to town. Instead of early morning it was going to be afternoon before I would arrive in Xavi….but at least I saw Have!" – Ghana: Xavi
Watch this: Youth in Landscapes – Avu Lagoon CREMA in Ghana
How many 'birders' (birdwatchers) do you know?
Whenever birds become a subject of discussion, I always remember a song I learnt from a Ga children's radio program about birds. There were different Ghanaian language versions of the program: Ewe-Dada atuu, Ga-Taa taa tee, Akan- Maame o den de, Dagbanli-Mma loolo and Nzema-Ngakulakula.
I learnt this song on the Ga 'platform' and it literally translates:
Little bird on a branch (2x same tune)
Little bird on a branch
When I get hold of a stone
I will throw it at you, little bird!
That was several years ago. I will not be surprised if some of those kids who learnt the same song have become ardent protectors of birds and wildlife! We have transformed! As a country, we have wildlife laws and policies but some of us know these are not enough.
Ghana has over 760 species of birds and is becoming an ideal West African birdwatching destination.
AL Ecotour Agency wrote a review about the Xavi Bird Watching Sanctuary after a visit on 18 February 2020. According to them, it was an amazing experience at the beautiful scenery of Xavi Sanctuary.
Consequently, they took note of the Baobab Grove, the "Lotor" River and the remaining cultural features at the community-based resource.
"The Baobab Grove covers about 3 hectares of the site where shades and seating units are provided for tourists to use as rest stops," they wrote.
Understanding the concept and investment potential
The Xavi Bird Sanctuary is an area of land in which birds are to receive protection.
You may generally perceive a bird sanctuary as a 'hospital' caring for injured birds, an 'orphanage' and a breeding center breeding many bird species behind-the-scenes. Some threatened species can become our target.
Endowed with almost 800 bird species, Ghana has huge potentials for the business of birdwatching.
"A research by Birdlife International in 2011, revealed that about a quarter of British birds, which fly annually across the Atlantic, end up in Ghana and do not return. The average birder is 50 years old, well-educated, and sustainably aware. Older, retired birders often have more time and money to go birding. The European birdwatcher spends on average around 100 euros a day and spends several nights at one destination. On average, a birder spends roughly 17 days in a host country according to Herbert Byaruhanga the executive director of Africa Birding Safaris, and spends roughly US$7,000 on a trip." – Missing out on bird watching ecotourism prospects
There is at least, a birdwatching spot in almost every region in Ghana, the Keta Lagoon Ramsar Site, Ankasa Resource Reserve, Atewa Forest, Xavi Bird Sanctuary, Owabi Forest Reserve and the Sakumono Ramsar Site, to list a few. Ghana is yet to boost this aspect of ecotourism and fully develop it for revenue generation purposes.
The Xavi ecotourism product /package has potentials to become a unique eco-tourism facility. The site closed to the public in 2019 but there are talks of revamping it.
Part 2 of the Volta Circuit continues next week. Meanwhile, you have two weeks to try your hand at the puzzle below.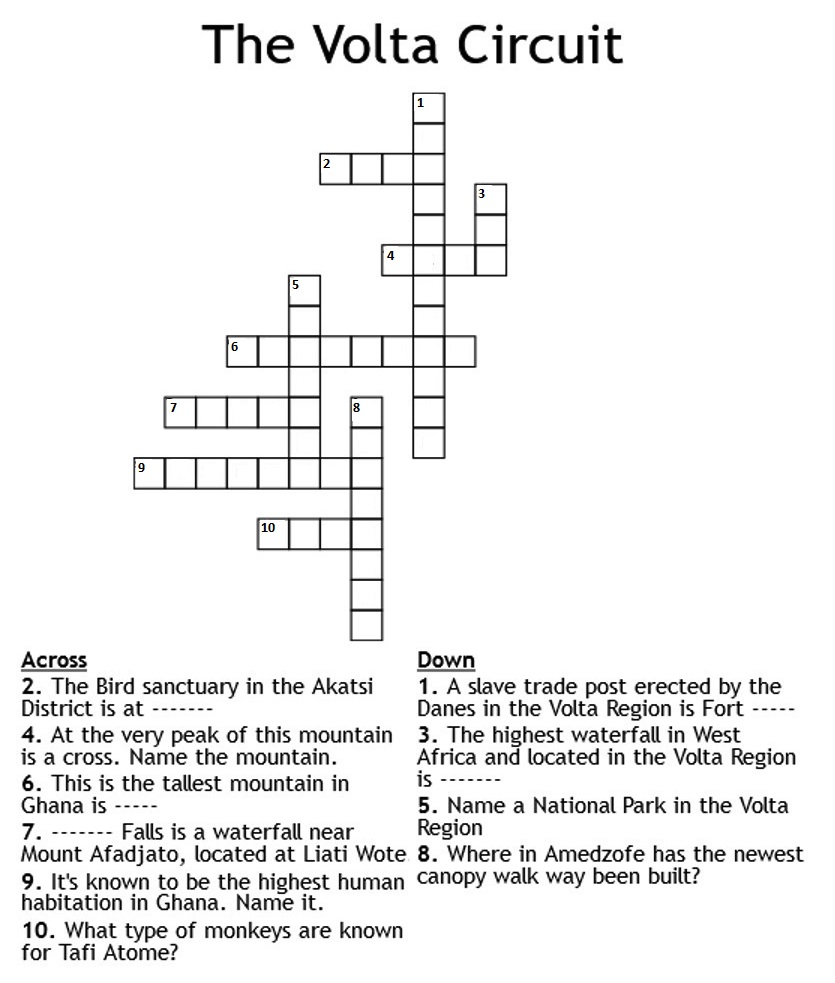 Solution to last week's riddle: I have seas without water, coast without sand, towns without people, and mountains without land. What am I? A Map