YEN ARA ASAASE NI – BY DR. EPHRAIM AMU
In Pictures
Selected Headlines:
My Take:
As I thought about how to celebrate Ghana @ 65 on the blog, I was not surprised when the 'proverbial Ghanaian hospitality' leaped at me. 'How have we 'nurtured' these intrinsic characteristics of Ghanaians for the benefit of the hospitality and tourism industry in Ghana?' I wondered.
Ghana is known as the second-largest producer of gold in Africa, the world's second producer of cocoa beans, and for its colorful kente cloths. The exploration of gold has brought us far. In respect to the tourism and hospitality industry, there are several outstanding issues. There are also many more areas yet to be explored and/or developed. Ghana is sitting on unimaginable tourism wealth! Using a more cohesive approach, an effective strategy in our tourism business explorations should take us far.
We, the people of Ghana, Ghanaians, are well-known for our warmth, generosity, and vigorous welcome of family, friends, and strangers which has been labelled as 'the proverbial Ghanaian hospitality'. In the professional world of hospitality, this is just the tip of the iceberg! Many, unfortunately, don't seem to realize that 'the proverbial Ghanaian hospitality' is not the 'be-all' to get our visitors to want to come back again and again.
Several years ago I undertook a research; Project Name: Hospitality Standardization Training WG2 Human Resource Development FY 2006 (October 2006 – February 2007), and its findings have hunted me ever since! How many years ago has it been? Do the calculations! I know the dynamics have changed but nothing much has changed.
There has been several other such or similar tourism/hospitality-related projects which are yet 'to see the light of day'. Why does it take us so long to carry through good and viable projects?
The implication of some observations made in the research pointed to the possibility of the moment of truth for the 'proverbial Ghanaian hospitality' leaving guests, visitors, and customers with a hollow experience, unimpressed about what they may have anticipated so much as "Ghanaian hospitality".
The research showed that service personnel and students in the hospitality and tourism industry (during the period of the research) had very limited understanding (language being a contributing factor) of what is meant by 'being hospitable'. To most, it is being friendly and using welcoming gestures associated with the Ghanaian culture, 'full stop'. It has long been observed that our 'customer service' is hardly viewed as a whole of several components. This parallels my observation of the general attitude we seem to portray in our 'world of hospitality and tourism'.
In 2009, a security expert expressed concern about the abuse of the proverbial Ghanaian hospitality and cautioned the citizenry to extend such courtesies with care. This was an alert to incorporate elements of security into nurturing the proverbial Ghanaian hospitality. Did anyone pick this up?
From another publication I read: 'Every Tom, Dick and Harry, wants to take advantage of the Ghanaian all because of our unregulated culture of hospitality. In the name of, and upholding, hospitality, the Ghanaian will lie low or flat to be walked over by a foreigner'.
Over the years I have heard of flattery comments and harsh criticisms made on the 'proverbial Ghanaian hospitality' which relies heavily on intuitive skills (basic foundations towards building customer service). An objective assessment and constructive efforts towards giving it an added edge is required, if not long overdue.
Ghanaian cuisine is not only very varied and nutrient-rich, they are also absolutely delicious. It's been described as 'food for the soul, not just the stomach'.
However we still have a long way towards instilling quality sanitation in our food preparation practices especially in the informal sector.
I honestly think our Chefs in some hotels are generally doing great in their presentations of Ghanaian foods.
I've been wondering, however, on how else the following foods; banku/akple, Ga kenkey, tuo zaafi, rice balls and kokonte, can be presented differently.
Below is an Independence Day Cocktail (Ghana 🇬🇭 ngoor) and Otor/Etor both prepared and presented by Mr. Nartey, a lecturer at Koforidua Technical University to complement this special feature.
Courtesy Ebenezer Nartey IH KTU:
Otor or Etor is a Ghanaian traditional one-pot dish made from Yam and Palm Oil. It is considered a sacred and celebratory dish in Ghana and forms an integral part of Ghanaian culture.
Its preparation is by mashing boiled yam in a traditional earthenware called Ka in Ga, Asanka, or Ayewa, in the Akan dialect. The mashed Yam is then mixed with palm oil (usually deodorized with sliced onions), to obtain its beautiful yellow colour and flavour.
Otor/Etor is served with hard-boiled eggs. The garnish can extend from groundnuts to avocado pears etc. Almost every ethnic group in Ghana uses it for its celebration. A typical example is the Asogli Yam festival which is annually celebrated to mark the onset of a New Year and new beginnings.
A brief about Ghana 🇬🇭 ngoor, the cocktail, will be featured next week.
Tourism is vital for the success of many economies around the world and we all know it!
Talks, articles, and a whole range of write-ups and conferences about tourism boosting the revenue of economies, creating thousands of jobs, enhancing the development of infrastructures of developing countries in particular, and planting a sense of cultural exchange between foreigners and citizens, abound.
A lot seems to be going on in our country (Ghana) albeit on ad hoc basis. I have observed the private sector making various efforts by way of promoting and improving the sector. Notwithstanding, there has been growing calls for infrastructural development at tourism sites.
Notably, tourism can provide an economic base for a region whose only development options are its cultural and natural resources, whether coastal, mountain, wildlife, or a combination of these.
Hospitality & Tourism Education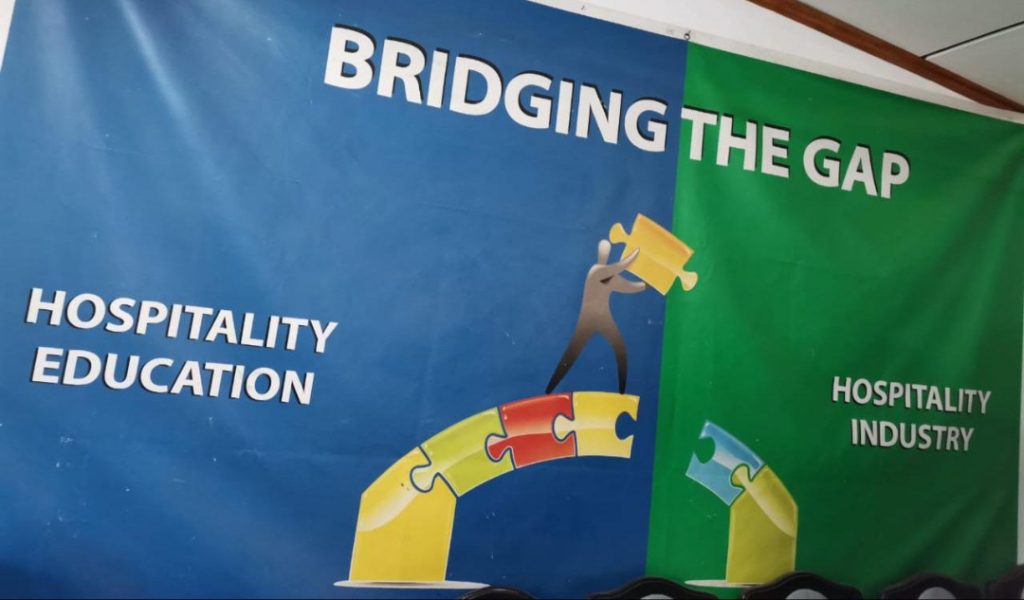 This banner hangs against a wall in my private library/office. It serves as a constant reminder and also stands for the little efforts some of us have been embarking on; to play our role in bridging the gap between hospitality and tourism education and the hospitality and tourism industry. This is our contribution to our motherland.
Patriotic Song for the week
Ghanaian patriotic songs will take the place of my riddles during this month of March. PLEASE LISTEN:| YEN ARA ASAASE NI | DR EPHRAIM AMU – Twi & English versions
LYRICS reproduced below to ponder over.
1st Stanza
Yɛn ara asase ni
Ɛyɛ aboɔdenden ma yɛn
Mogya a nananom hwie gu, nya de too hɔ maa yɛn
Aduru me ne wo nso so
Sɛ yɛbɛyɛ bi atoa so
Nimdeɛ-ntraso, nkotokrane ne apɛsɛmenkomenya
Adi yɛn bra mu dɛm Ama yɛn asase ho dɔ atɔm' sɛ
Translation
This is our (own) homeland
It is priceless to us
Our forefathers gained it for us at the peril of their lives
It is the turn of you and I
To continue the legacy Know-it-all behavior, cheating and selfishness
Has maimed our character and diminished our love for our land
Chorus (2x)
Ɔman no sɛ ɛbɛyɛ yie oo!
Ɔman no sɛ ɛrenyɛ yie oo!
Ɛyɛ nsɛnnahɔ sɛ, ɔmanfo bra na ɛkyerɛ
Chorus (2x)
Whether this nation prospers!
Or it (the nation) doesn't prosper!
Clearly depends on the character of the citizenry
2nd Stanza
Nwoma nimdeɛ huhugyan
Anaa adenya ara kwa
Ne ɔbrakyew de, ɛsɛe ɔman na ɛbɔ no ahohora
Asoɔmmerɛ ne obuo pa
Yɔnkoɔ yiediepɛ daa Ahofama ntetekwaam'
Ma onipa biara yiedie
Ɛnonom na ɛde asomdwoeɛ ne nkɔsoɔ pa brɛ ɔman
______________________________________________
2nd Stanza
Bragging of educational achievements
Or useless greed for material things
And bad lifestyles, destroy and disgrace our nation
Obedience and respect
Care for others' welfare daily
Selflessness in the traditional way Ensures each person's welfare
These are what bring peace and prosperity to our nation
_______________________________________________________
This has been a rather long article. I appreciate your time and hope you enjoyed it. Together, we celebrate Ghana and pray to do our little bits to build our beloved country.