I couldn't help showcasing Flair Vocational Training Institute without depicting a few pictures of the mother company which 'birthed' it, Flair Catering Services, the first privately owned catering company in Ghana!
I love cooking, or rather, culinary arts! In culinary arts we are not just cooking, but we are using our creativity in preparing, cooking, presenting and serving food.
Welcome to our first showcase on Education and Training in the Hospitality Industry on the blog. Food and food service plays a critical role in the hospitality industry! Think about having an event or a simple meeting without food and/or drink in Ghana!

Flair Vocational Training Institute (FVTI) was established in 1968. In 1988, it was officially registered and recognized as a National Vocational Training Institute (NVTI).
Since its establishment, over 5,000 men and women from Ghana and beyond have come through the institution. However, what resonates more with the management of FVTI is the fact that their training has changed lives. While some past students have embarked on their own entrepreneurial journeys, others have found jobs that have improved the livelihoods of their immediate and extended families.
HOST: I doff my hat to you, Flair. Congratulations! I have the Manager of Flair with me as my Guest, Nana Tawiah Banson. She oversees the operations of Flair Catering Services and the Flair Vocational Training Institute. Thank you for honoring our invitation to be showcased. 
MANAGER: It's my pleasure.
HOST: Do give us a gist about who is behind Flair (Flair Catering Services and Flair Vocational Training Institute).
MANAGER: Ms. Barbara Baeta popularly known as Aunty Sika, felt it was her calling to help train the youth to be useful to themselves, their homes and their society at large. Her passion to help the youth was so strong that she usually went the extra mile to use her own money to train and to sponsor some of her students and staff abroad for further training and exposure.
Her selflessness, is seen in all she does and felt by all the people around her. One of her first students, Sophia Aduamoah is the mother of the first black Equerry to the Queen of England; Lieutenant Colonel Nana Kofi Twumasi-Ankrah, born and raised at Flair.
HOST: Wow! Do explain who an 'equerry' is. It is not a common word among us.
MANAGER: An equerry acts as a personal assistant to a member of the royal family. He is considered one of the most important and senior positions in the royal household, requiring his attendance at official engagements at Buckingham Palace and other Royal residences.
HOST: That's interesting. I usually like to establish a common understanding with my readers before delving into discussions. To start, what is the scope of 'Catering'?
MANAGER: Catering is an activity which involves the preparation, creation, delivery, and presentation of food to clients for the domestic, social and commercial purposes.
HOST: And I realize Flair Vocational Training Institute (FVTI), offers two different certificates for its one year course in catering. Kindly explain the difference.
MANAGER: The certificates for the one year course are; Foundation and Proficiency
i. The Foundation course is incorporated with other hospitality programs such as Food and Beverage services, customer care, housekeeping, book keeping etc. These help students to fit all round in the hospitality industry and to discover their love for a particular sector.
ii. With the Proficiency program students work directly with the catering officers in a professionally equipped kitchen, cooking for a variety of orders of different sizes and menus. They are taught everything from menu planning, to food marketing and how to prepare both local and international dishes. In the past the Proficiency program was designed for students with little reading and writing skills and could not understand the theory involved in the Foundation class. It is basically, large scale cookery. However, this has become very attractive even for the elite, most of whom have degree certificates.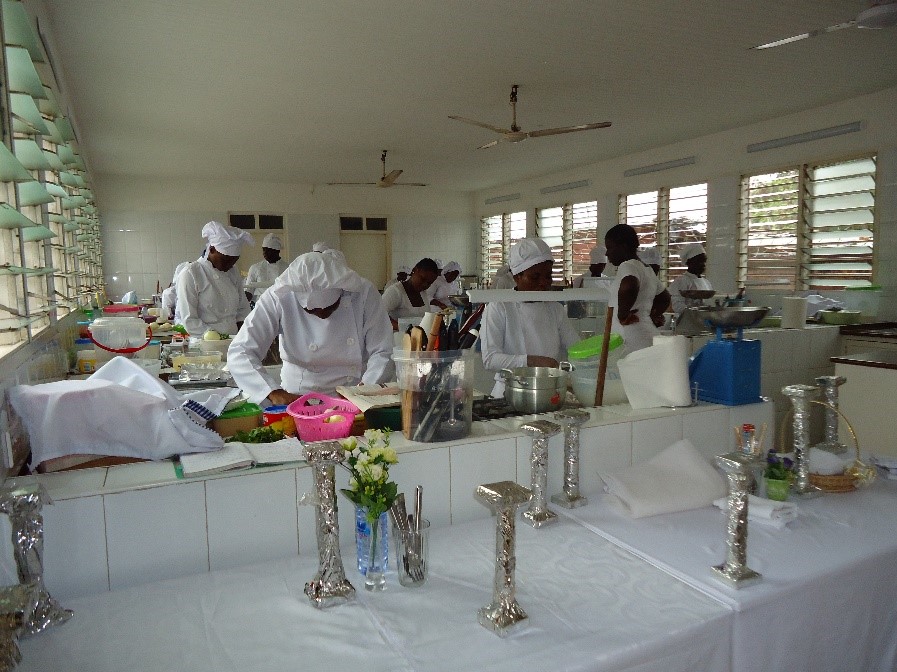 HOST: I know you also offer courses with duration as short as two months. What courses are these and who are eligible to attend such courses?
MANAGER: The two-month course was designed for wives and those who were less privileged to learn cookery from their parents or guardians. This weekend course, in the past, was used as a training and preparation for young girls during marriage. In addition to cookery, they were taught basic housekeeping, table laying and entertaining of guests, even how to walk properly…. Deportment and grooming.
HOST: Wow! That's interesting. I see you doing something we should be doing on a larger scale; identifying a niche market, their training needs and bridging the gap. What else is unique about being trained at Flair Vocational Training Institute?
MANAGER: With Flair (FVTI), you can always get the exposure and the practical skills you need even before graduating and doing your practical attachment. Here, 'Practicals' start from day one. Students are encouraged to participate in all the events and catering that take place on daily basis either on, or off the premises.
HOST: That's good to know. Hands-on-training, or experiential learning! Considering what we have discussed so far, I see different categories of trainees. Do they all participate in the 'Practicals' and events?
MANAGER: All our students take part in the compulsory weekly 'Practicals'. The events are graded and students are awarded for their involvement in the events at the end of the one year program. However, the events are not compulsory for those in the two-month program.
HOST: How will the introduction of the National Technical Vocational Education and Training (TVET) Qualification Framework impart on your operations?
MANAGER: The introduction of TVET Qualification Framework is a very laudable idea. The Flair (FVTI) course structure fits right in, since we are focused on competency based training. For example, people with Master's degree who are just interested in mastering their cookery skills for home-use, join the two-month course and they are happy with the skills they acquire when they complete the training.
Those who will want to use these skills as a profession can always continue developing themselves using the TVET Qualification Framework even to the Masters level.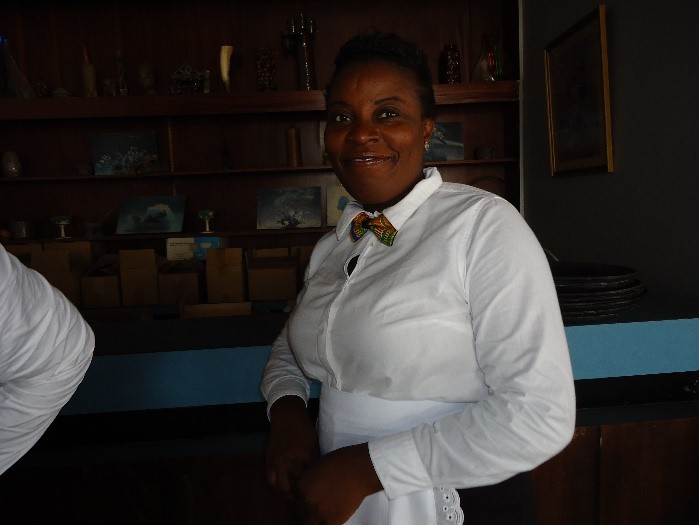 HOST: As a vocational institution specializing in catering, how do your students relate to the hospitality industry?
MANAGER: Most of them come in knowing what their career goals are; to become chefs and cooks. Flair students are mostly hard working and can multitask with little effort. Some of the key players in the industry bring their staff for training with Flair (FVTI) because of the performance of our students.
HOST: Apart from exhibiting great skills in cooking, the hospitality industry requires exciting ways of presenting foods, knowledgeable personnel with good attitude. How do you instill good attitudes in your students since the industry sometimes takes a toll on personnel?
MANAGER: Students are taking through Grooming and Deportment. We also teach them how to manage stress etc.
HOST: I have been reading a few research articles on the perception of students toward careers in Ghana's hospitality and tourism industry. There seems to be a trend showing that most hospitality students do not follow a career path in the industry and that they seek for career opportunities in other industries. Having trained more than 5000 students over the years, would you know what percent have continued on this career journey?
MANAGER:I would not be able to give you an exact percentage for now but I know that those who do not get employed by the industry use the skills they acquire to set up their own businesses and employ other people.
HOST: Classroom teaching is now a challenge as a result of the corona virus pandemic. Educators are being forced to opt for e-learning. What changes have FVTI adopted with the changing times?
MANAGER: With the changing times, it has been difficult for Flair (FVTI) because, most of our students are not very privileged to have smart technology at hand; making online teaching and learning very partial as only a few students in fact less than 10% have access to learn online so we had to take the bull by the horn and reduce the number of admissions in order to observe COVID protocols including social distancing.
HOST: The corona virus has challenged institutions to become innovative. What other changes are you implementing at FVTI?
MANAGER: In the past, the institute was focused on only Catering. However, we believe this is the time to widen up and train the youth in other vocations such us Millinery and others so that we can empower the youth to work for some income even from their own homes.
HOST: I can't tell how much I appreciate the time you have spent with me putting the above information together. Thank you.