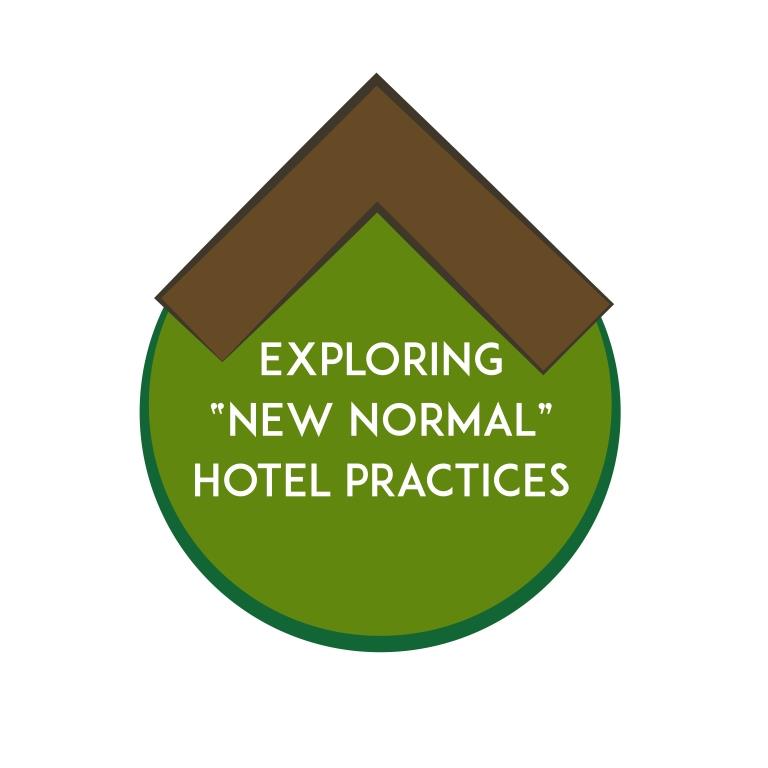 Established in December 2016, Tomreik Hotel is a 3-star operation with 46 guestrooms ranging from 'standard' to 'executive' rooms. Ordinarily, the conference room has a sitting capacity of 200, hosting a variety of events including, conference, wedding and parties. Other facilities include a 70- capacity indoor restaurant, a pool bar with a sitting capacity of 200, a gym, a spacious car park and a 17- and an 8-seater shuttle buses.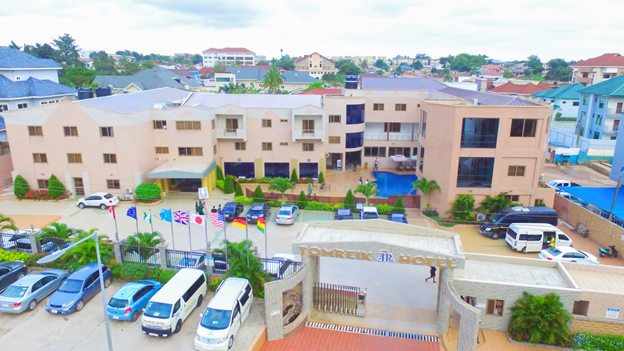 The hotel is situated in a business residential area at East Legon on the Lagos Avenue street, a 10- minutes' drive from the airport.
Staff salaries saw a 50% cut during this lockdown and no-one was laid off.
Tomreik Hotel went into hibernation for three months following outright cancellations of reservations and indefinite postponement of paid advance bookings.
Upon resuming operations in June, a special shift work system was initiated that secured everyone's job. With an employee strength of about 80, the new normal demanded engaging about 50% of the staff on rotational basis.
Preopening Efforts
Both management and operational personnel underwent a series of training from Ghana Health Service, learning about the coronavirus infection and about how the hotel could protect their personnel and their clients/guests and ensuring safety for all.
All the staff were tested to know their status on the virus.
Fumigation and cleaning the rooms for operations involved spraying of the room, changing all linen and towels, duvet; sanitizing all hand gadgets (TV and AC remote), the safe etc…
Departmental Protocols.
The Front Office
A crowd control rope which was not there before, has been placed to mark where guests can stand as well as to ensure observation of social distance protocol.
The Front desk staff use their PPEs (nose masks, gloves, face shields) all the time and they are required to sanitize their work area regularly (every 10 minutes).
Notices display 'No Mask No Entry' at all entry points.
Social distancing is the new normal.
For reservations more detailed information is now required.
Porters use hand gloves in carrying guest luggage to guestroom. Porters, also playing the role of doormen no longer need to open doors for guests. The main reception is kept permanently opened.
Guests open their respective rooms since keys are now directly given to them and not the porters as before, upon checking-in.
The reservation team (of personnel) compile much of guests' personal information either via mail or telephone just to reduce the check-in process as known before.
The front desk staff fill guests' registration forms (using the information received during the reservation process) prior to arrival, hence, only guests' signatures (on the registration form) and their passports (for identification to get a copy the critical page) are required, during check-in and checkout, unless it's a self-payment.
Pens for guests' use at the front desk are placed in a pen holder or desk organizer on the counter and the front desk staff sanitize them as and when they are used.
Formally, 3 or more guests may be attended to at any particular time at the desk, however, now, with two personnel at the desk all times only one guest is attended to at a time while the other guests wait for their turn; observing the social distance protocol.
Guests checking -in are given complimentary nose masks and pocket sanitizers.
There is frequent cleaning of the front desk and the lobby area with disinfectant.
Food and Beverage Department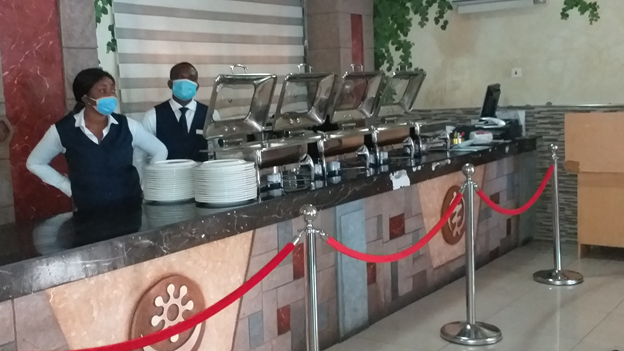 No mask no entry to restaurant.
The sitting arrangement is reorganized and the restaurant capacity reduced by 50% in view of social distance protocol.
Guests/Customers are required to use hand sanitizers provided at the entrance of the restaurant.
Walk-ins (Customers) are encouraged to order for 'Take-away'.
A warmer holds cutlery sets and Guests/Customers wanting to eat at the restaurant are requested to pick their own cutlery set from the warmer to avoid contamination.
Disposable cups are in use now instead of the normal drinking glasses.
Conference snacks and juices are strictly packed.
In the event where buffet style service is required, assisted service (dishing of food by a food service attendant) is practiced.
Room service is now presented as 'packs' unless guests request for plates(chinaware).
Conference delegates are encouraged to wash their hands frequently during the meeting; event coordinators ensure that once conference participants re-enter the conference room they wash and sanitize their hands.
Hand sanitizer is placed on every table.
Usually after daily meetings the room is aired, housekeeping comes in to do thorough cleaning, table clothes are changed and the room is set it up for the next day. Now, in addition to the above, spraying the room and sanitizing all doors handles and entry points have become the new normal.
Staff are in PPEs (nose masks, gloves, face shields); gloves are used when they are handling packed foods or serving at buffet.
Housekeeping Department
Staff are in full PPEs (nose masks, gloves, face shields).
Bedsheets, pillow cases, blankets and covers and towels are changed every day in occupied room unless the guest refuses the change.
Comprehensive cleaning is done every day.
Doors and handles are sanitized.
Rooms are fumigated and ventilated before check-in and after check-out.
No staff is allowed to enter a guestroom without proper PPEs.