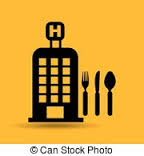 The images on your right and left are traditional symbols depicting the availability of food and beverage service in hotels.



                           
                                                                          I 'lo-o-v' food and beverage service!

It is not so much because I love eating but hotel food and beverage service offers so many opportunities for variety that there is no excuse for hotels not creating exciting food and beverage experiences for their guests/customers, either in the presentation of foods or drinks, the environment created, the interaction between the service personnel and guests or a combination of any of these. Yet I find much dullness, oversight of tasks involving basic food and beverage service practices, a general lack of enthusiasm among personnel as well as personnel not anticipating the needs of guests in many hotel food and beverage outlets even in our top hotels. I sometimes 'scratch my head' wondering what some of us can do to bring pride to our food service personnel to enable them deliver real professional service consistently.

Food and beverage service focuses on the guest. However, numerous articles have been written on customer/guest service in the hospitality industry, I don't intend to tow that line. If you have been an ardent reader of this blog, you will observe my focus is on hotel personnel themselves; so will this article be.To be certain we are on the same path therefore, this is just an introductory article to set the tone to this series on hotel food and beverage service. 

Below are two unique service options hotel food and beverage outlets offer, which I find most challenging.
Room Service:
It is expected to provide an exceptional service for guests' convenience, intimacy and comfort and may involve the presentation of a welcome cocktail/drink when a guest checks-in, a gourmet dinner or a complimentary breakfast in bed. 
Grill Room Service:
I am yet to see or hear about this type of service here in Ghana (who knows? One could be budding while writing this article). I have had a grill room service experience- a glass petition divides the restaurant and the kitchen. Guests choose their meat cuts and watch as their foods are prepared! It is a unique experience for cooks, guests and food service personnel!

My point is, food and beverage service offers a wide range of options; formal, semi-formal and casual environment for groups and individuals alike from the banquet hall to the restaurant to several lounges with their distinct themes. In respect to themes, if it is not a piano bar concept, a jazz lounge bar, saxophone barbecue(a touch of entertainment), it may be leisure 'mixed' with food and drink as may be seen with the swimming pool lounges or games lounges. 

 Sometimes the concept is enhanced by the décor; the furnishing and decoration of the room or dining space; the use of colors (pretty much used in this country), chinaware, glassware, furniture or table arrangement/setup(yet to be extensively exploited).

 Variety may also be offered in the menu, featuring the traditional/authentic dishes of Ghana or the ethnic menus around the globe (Chinese, Nigerian, American, German, Indian, Mexican, and French etc). Thematic menus may be introduced for any of the three principal meals of the day- breakfast, lunch or dinner and even with snacks (morning, afternoon or late evening).

In our various institutions I am aware hospitality students learn about delivery of food via French service, American service, Silver service and Russian service. I am yet to see distinct characteristics associated with an African or Ghanaian food service on their curriculum.

By the way, what were your views on the the pool of roller skating waiters introduced at the Movenpick Hotel, Accra? Hotel food service may even create excitement by indicating the distinct clothing diners should wear! 

In Ghana, Buffet, Cafeteria and Coffee shop service concepts are well known but I have observed a mix up of what is labeled 'English breakfast' and 'Continental breakfast' in our hotels.  Perhaps it's as a result of competition! There is also no definite understanding of what a Ghanaian breakfast is, so there is some confusion here too.

In discussing the human element, this series on hotel food and beverage service will not only focus on restaurant waiters. Other personnel in the hotel food and beverage service will also include restaurant hostesses, banqueting staff, snack bar attendants, cashiers, runners and bartenders.

I did indicate earlier that I sometimes 'scratch my head' wondering what could be done to bring pride to our food service personnel to enable them and/or motivate them to deliver real professional service consistently.  This series would make some few suggestions.